THE ENDLESS CHANGE OF COLOUR - LIMITED 24 HOUR VERSION
My generative composition "The endless change of colour" was released on CD in 2013 by 12k. Now I release a 24 hour version of this piece in a limited edition on a metal USB-Stick with gravure in a black magnet-box with grey imprint. The stick contains a 2,07 GB MP3-File encoded in 320KBS. It´s not a loop, but a 24 hour recording of the set up.

The limited edition can be ordered for 39 € + 4 € shipping right here.
(Shipping starts february 10th)

OUT NOW: MARSEN JULES - SINFONIETTA [DRONARIVM]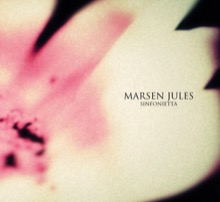 "Aristotle referred the term "symphony" to music of the spheres that embraces the concept of a ethereal harmony. Sinfonietta, which lasts 45 minutes, is a very first element of cosmic architectonics, the miniature universe model. Unwrapping in time, this self-contained composition is skillfully woven out of orchestral sound fragments repeated in a cyclical manner. But it would be not enough, just to listen to this music. Marsen Jules offers a new sense of reality beyond the three known dimensions, where time is non-linear and perception is multivariate." (Dronarivm)

CD/DIGITAL NOW AVAILABLE AT DRONARIVM.BANDCAMP.COM.   
MARSEN JULES AT GRM [OKTAF09/CD/DIGITAL]
CD/DIGITAL STILL AVAILABLE AT WWW.OKTAF.COM.   
SOUNDTRACK FOR ANDERS WEBERG "AMBIANCÉ"
In 2020 my good friend and swedish filmmaker Anders Weberg will release the worlds longest film. "Ambiancé" will have an epic length of 720 hours. I will assist Anders with the soundtrack for this project. A first 72min teaser can be streamed until the 20th of July. The teaser gained over 200 000 plays and worldwide media attention during one week. Even the Hollywood Reporter wrote about this.
Podcast feature by Deutsche Welle "German Pop"-Series
MARSEN JULES & JOHN-DENNIS RENKEN - "FERNTROMPETEN"
Here comes a first preview of the new project "Ferntrompeten" bei Marsen Jules and trumpet Player John-Dennis Renken.


BEAUTYFEAR ON BESTLIST FOR "PREIS DER DEUTSCHEN SCHALLPLATTENKRITIK + TOP TEN OF GERMAN CHILL OUT CHARTS"
What a pleasure. After te nomination of "Beautyfear" for the bestlist for "Preis der deutschen Schallplattenkritik", an independent award selected by german music journalists, in the category "Nu & Extrem" the album was also featured in the top ten of German Chill Out Charts (DCOC) for over 5 months.


LATEST ALBUM: MARSEN JULES - BEAUTYFEAR (JAN.2014 / OKTAF)
With "Beautyfear" Marsen Jules delivers one of his most outstanding albums so far. Mastered by 12K-labelboss Taylor Deupree and with a coverpicture taken by photographer Erik Madigan Heck from NYC, the best conditions are laid for a lasting experience of abstract musical poetry and touching soundscapeism.

Our now on Oktaf
Distribution: Kompakt

Order now: http://oktaf.bandcamp.com
EXCLUSIVE MIX FOR M50 RADIO SHOW CHICAGO
Marsen Jules - Exclusive mix for m50 radio show by Marsen Jules on Mixcloud
Marsen Jules & Anders Weberg - Trailer for European Media Art Festival
MARSEN JULES & ROGER DÖRING - TRAILER NOSFERATU
VIDEO: MARSEN JULES@MUTEK